Japantown San Francisco
In collaboration with Potion PR, this mark was created to represent the neighborhood's mission and vision, while inspiring collaboration and a sense of cultural pride within San Francisco's Japantown. In the branding process, we explored three different themes comprised of celebration, hospitality and spirit. The overwhelming choice by the Japantown Merchants Association was in the selection of the theme of celebration.
This is an explanation of the thought process behind my design for the mark: Japantown is a community and the meeting place to celebrate Japanese culture. The seed-like shapes that make up the rays of the sunburst reflect the generations of Japanese that have come to San Francisco, bringing with them the light and spirit of Japanese culture. The inner circle of seeds expand into the larger outer circle to signify the growth, spirit, influence and contributions of the generations of Japanese and Japanese-Americans in the Bay Area. The outer shape of the 8-petal Sakura retains a special quality because of its extra petals, similar to how San Francisco's Japantown is an equally special place, full of culture and community, as only one of three remaining in the United States.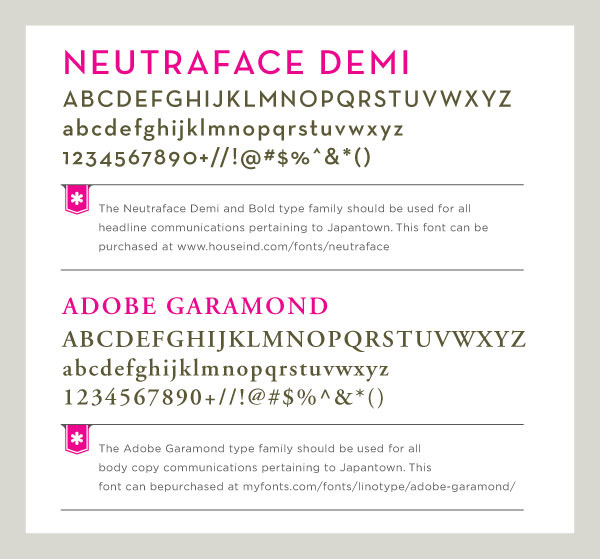 Within Japanese culture, butterflies are considered the souls of the living and the dead. They symbolize both joy and longevity—qualities that are inherently built into the history of San Francisco's Japantown. Japantown is a place that has been shaped by the legacy of generations that have come to pass, generations that visit in the present and those yet to be born into the future.
Butterflies possess both beauty and light— captivating our attention in the same way that exposure to culture ignites our inner light to learn from other cultures. The characters running down the center of the butterfly read "Nihomachi," which translates into "community." When we honor the spirit of Japantown, it is rooted in the heart of community.

Theme | Hospitality
Inside the abstract shape is a figure draped in a kimono that illuminates the individual beneath the robe. This character depicts the unique experience that every individual has in the context of walking through Japantown. Additionally, the association of kimonos in relationship to Japanese tea ceremonies tie into the theme of hospitality.